Many people are against Bitcoin for various reasons. One of their main reasons is the quantity of energy that the Bitcoin network consumes to produce a single BTC. This is why miners adopt a new process using green energy as a power source. This way, Bitcoin can become the leader in sustainable energy among other cryptocurrencies. In today's article, we will learn more about ecological concerns regarding cryptocurrency mining, and briefly discuss the measures Bitcoin mining companies used to handle these issues.
Environmental Problem With Bitcoin Mining
Bitcoin mining is considered a significant cause of growing environmental concerns around the world. The main issue is the enormous amount of energy needed for mining. As we may have heard, unsustainable mining produces carbon emissions and may impact the climate. Using fossil fuels is restricted, especially in mining Bitcoin. In addition, the negligence of electronic mining waste can harm the environment and local people's health. It is general knowledge that Bitcoin mining is growing, and leading countries recognize it. Still, governments need to address their environmental issues. This way only, we can ensure a bright future for the next generations.
Bitcoin Mining's Move Towards Sustainable Energy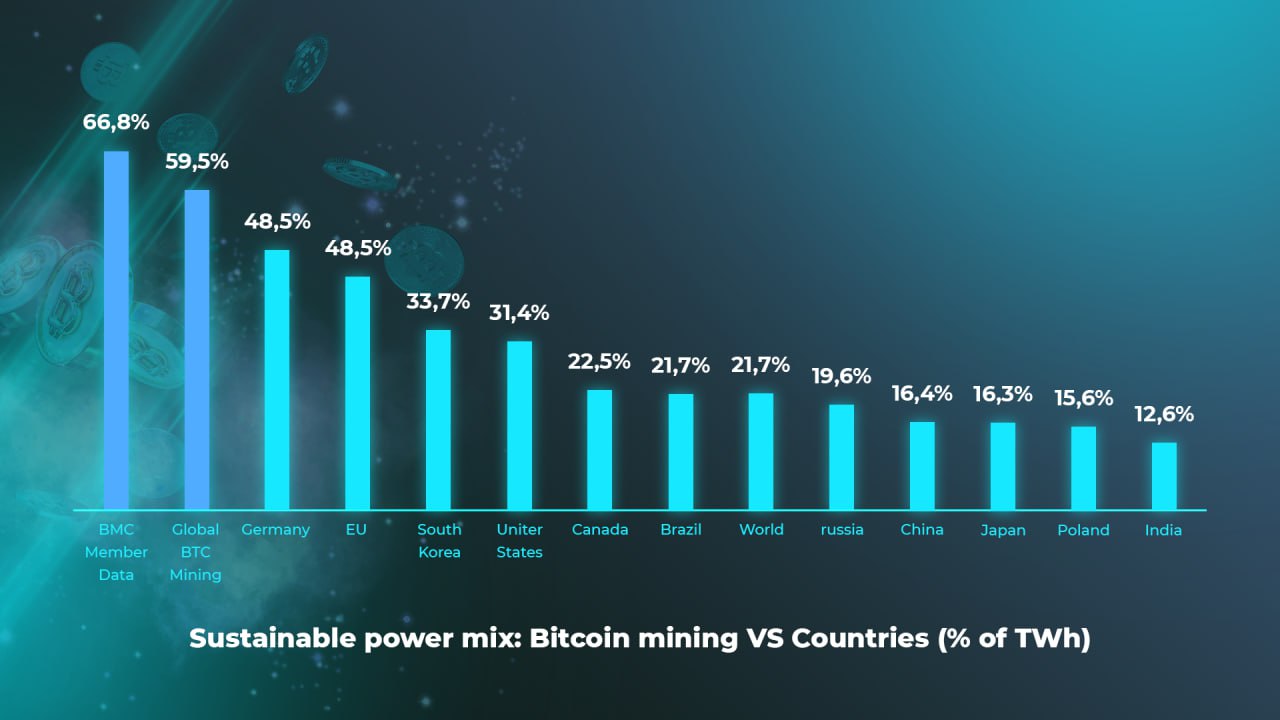 Bitcoin mining consumes plenty of energy, about 110 TWh per year, about a small country's total energy generated for the same period. Simply put, a single Bitcoin mining needs as much power as a heater running all day, non-stop. This makes it easy to understand the large quantity of energy required in the whole process. It is also easy to understand why keeping energy costs low is a major concern for all Bitcoin mining sites. The good news for every Bitcoin mining company is that they can save money while saving the planet. Clean and sustainable energy sources are more affordable. Wind, solar, and hydropower are examples of these energy sources. These sources are cheaper than coal and gas. Around 76% of miners use sustainable energy sources, based on the Cambridge Finance Center review. The stat means we live in an epoch when Bitcoin protects the planet instead of harming it.
Five Companies Ensuring Sustainable Mining
Let's check out the top Bitcoin mining companies focused on sustainable energy usage.
EZ Blockchain
EZ Blockchain is a Bitcoin mining company that was established in the United States in 2017. The company offers hosting solutions for Bitcoin mining data centers. Currently, it controls everything in the power generation cycle. The company currently has two US offices, in Chicago and Houston. The project makes mining infrastructure for energy companies at an affordable price, encouraging many businesses to switch to sustainable energy. The company plans to use crypto mining to fight the waste of power. EZ Blockchain is building a bridge between the energy and the digital assets industries. This way, they use Bitcoin mining while decreasing energy consumption simultaneously. They have developed some innovative solutions that help convert natural gas into electricity and then, respectively, convert it into cryptocurrency. EZ Blockchain set up its mobile data centers in 2018. Overall, there are 77 centers now across the United States. These facilities are built to run on affordable energy sources.
Hive Blockchain Technologies
Hive Blockchain is another leading Bitcoin mining company. It is growing fast and doing it sustainably. In March 2022, the company said they would work with Intel. This way, they will buy high-quality chips to improve their Bitcoin mining software and hardware.  Not only that, Hive plans to have 100 MW of mining power by the end of this year. They will do this at a new Texas facility that uses renewable energy.
Marathon Digital Holdings
Marathon Digital Holdings is one of North America's largest and best Bitcoin mining companies. It is also very sustainable. In 2021, Marathon announced they would move their Bitcoin mining facilities to places with eco-friendly power sources. The company decided to become 100% carbon-neutral by the end of 2022. According to Marathon's CEO, Fred Thiel, they are committed to using sustainable power. Moreover, they already planned to use renewable energy for most of their fleet, so it was the perfect time to move away from fossil fuels. They implemented the power transition in 2022. This is a giant leap towards Marathon's goal of helping the environment and charting a new future for the Bitcoin industry.
Bitfarms Ltd. (BITF)
Bitfarms Ltd. (BITF) mines Bitcoin using clean energy from hydroelectric power. They currently have ten farms in the United States, Canada, Argentina, and Paraguay. The company has made significant progress in sustainable energy consumption. They have reduced their carbon footprint and become a reference in clean energy. In 2021, Bitfarms Ltd. made a big step toward its goal, raising about CAD 150 million. This shows their commitment to sustainable Bitcoin mining for a bright future.
Hut 8
Hut 8 began Bitcoin mining in 2018 in Canada. They are a digital asset mining company aiming for decentralized systems of finance and sustainability. This Bitcoin mining investment company uses clean, eco-friendly power. Its energy is based on nuclear and hydropower in its biggest eight Canadian data centers. The Canadian-based company has three data mining farms and five more multi-level ones. Not only that, but the company is improving continuously. According to the company's press releases, they worked with over 400 commercial customers and held 9,086 Bitcoin as of December 2022. In February 2023 alone, Hut 8 mined 156 Bitcoin.
Prospects of Sustainable Bitcoin Mining
Is Bitcoin mining legal? The prospects of sustainable Bitcoin mining are promising and legit. People realize the impact it has on the environment. They are taking steps to make it even better. Efforts are being made to use renewable energy and better mining tools. Some companies are also finding new ways to mine, like using unused energy from other industries. We will see more progress in sustainable Bitcoin mining as people demand it. Everyone in the industry must work together. But there is still a lot of work to do.
Conclusion
Before, sustainable energy needed more funding to get support. Currently, the Bitcoin crypto market can generate a lot of money, which might give sustainable energy the boost it needs to succeed.
FAQ
Can Bitcoin be mined with sustainable energy?
Yes, using sustainable energy can make mining Bitcoin more eco-friendly. A growing number of companies accept green power as an alternative mining source. Also, trustworthy apps and platforms with high ratings support green power.
Is sustainable Bitcoin mining profitable?
Yes, it can be more profitable for investors and nature. This is why it's crucial to carefully study agreements before trading in digital currency.
Read more: